'Donda' experience in Chicago pushes musical boundaries
Rapper Kanye West took the album rollout of his seventh studio album "The Life of Pablo" to another level when he decided to make various updates to the album post-release. The ever-evolving album rollout for West's new album "Donda" has taken things to another level but in typical West fashion. 
After experiencing "Donda" live at Soldier Field in Chicago, it's apparent that West has almost taken a reversal approach to releasing an album compared to "The Life of Pablo." With each listening party to showcase "Donda," the first two taking place at Mercedes-Benz Stadium in Atlanta, the album has evolved more and more each time through revisions and added or subtracted features. 
West rebuilding his childhood home he shared with his mother Donda West was clearly the makings of something special. After some time had passed and the sun had gone down over the Windy City, a small group of black-robed individuals lit an array of candles around the house. 
Candles lit, fog rolling throughout the stadium, a beautiful night sky and 38,000 people waiting to hear West's new album.
After waiting nearly two hours after the slated start time at 9 p.m., an entourage including West and two of his kids set themselves up inside the house. What ensued would give the first two listening parties a run for their money. 
"Donda Chant" started off the show with various images of Donda West being revealed on the jumbotrons to the beat of the song. After "Donda Chant" finished, West showcased his new and controversial song "Jail pt 2," featuring Marilyn Manson and DaBaby with several images of West's controversies over the years on the jumbotrons. While the execution falls a little short considering the controversies surrounding Manson and DaBaby, it was thematic of Jesus surrounding himself with sinners. 
As the show carried on, so did the thematics. The show included blacked-out vehicles, blacked-out clothing for participants, different light assortments to set the mood for certain songs and more individuals accompanying West on the porch of his childhood home like rappers Travis Scott, Don Toliver, Westside Gunn and Jay Electronica.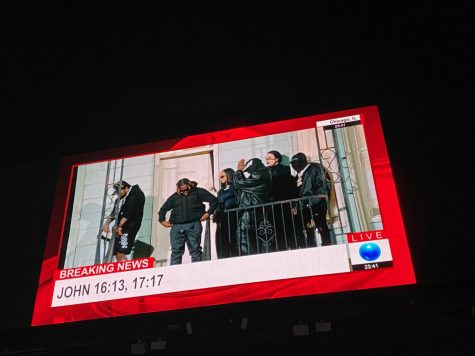 Highlights of the night were songs like "Jail pt 2," "Off The Grid," "Believe What I Say," "24," "Moon" and "Pure Souls." What made the listening party extra special was the last two songs. "Come to Life" was a song that wasn't featured at the previous listening parties and saw West deliver one of the most emotional songs within his discography. All lights out, West reflects on his relationship with Kim Kardashian, what went wrong in their relationship and what he could do if he had another life. 
As the song nears its end, a video on the jumbotron shows West in his studio he used for the first two listening parties, engulfing West and the room in flames. West stands up, walks off screen then West emerges out of the house on fire. Transition into the next song, "No Child Left Behind," a large spotlight shines on Kardashian, veiled in a minimalist Balenciaga white dress. West and Kardashian meet, exchange words and smiles then walk off together to end the event. The only thing left is the house drowned in an orange mixture of lights to display a figurative fire burning down the house.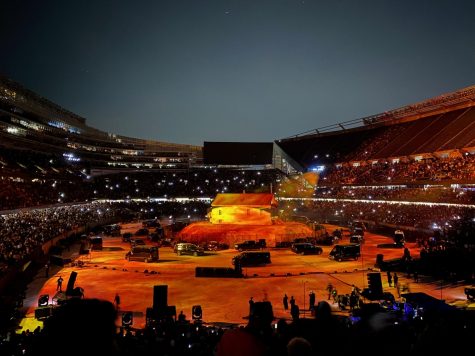 The last two songs and the genius visuals created for the event are very symbolic of understanding how West's mother had struggled to raise him as a single mother after divorce and West doing the best he can to make things work with Kardashian to do what is best for his kids and make his mother proud. 
The album rollout for "Donda" has been a wild one, to say the least. After massive amounts of speculation, pushbacks and three vastly different and brilliant listening parties, they all happened without West ever saying a word publicly about the album. West's ambitious homecoming to Chicago felt like history, not only for rap but for music in general. Just when fans think West has done it all, the rollout for "Donda" has pushed creative boundaries again.