University Council: Campus updates advance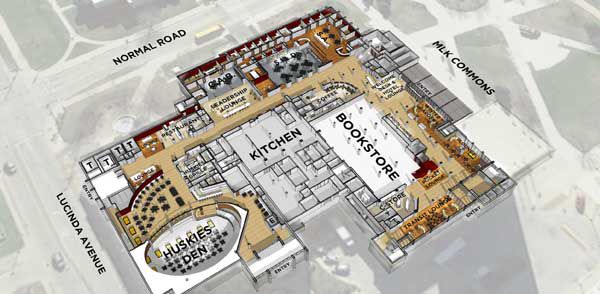 DeKALB — Members of University Council were introduced to renovation plans for the Holmes Student Center that could start at the end of the academic year during a Wednesday meeting.
The proposed renovations are estimated to cost $20 million. The renovation plans are still pending and require approval from the NIU Board of Trustees.
John Heckman, associate vice president of Facilities Management and Campus Services, outlined some of the details to be included in the renovations, including new dining options, a glassway plaza by the MLK Commons and a new space for student organizations.
"This is going to be an opportunity to bring students back to the Holmes Student Center and really reinvigorate the life and the attraction for students to come back here to the HSC," Heckman said.
The building, opened in 1962, is set to go under renovations starting in May and concluding sometime in the fall of 2019. The project has been the work of the Division of Student Affairs since 2014, as the student center hasn't received drastic upgrades in 25 years.
Heckman also provided an update on Stevens Hall, which he said could have two wings open by the end of the calendar year.
Acting President Lisa Freeman also addressed the Council to discuss the need for other renovations in classrooms and administrative buildings. She said she has felt frustration with the state for providing funds to schools that are more financially endowed and called for more state funding herself.
"I mentioned to them, frankly, not just my surprise but my displeasure after learning from a Chicago Tribune article that the state is investing [in] buildings on the campuses of Illinois' well-endowed private universities," Freeman said. "I think that's inexcusable."